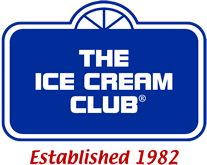 Open Your Own Ice Cream Store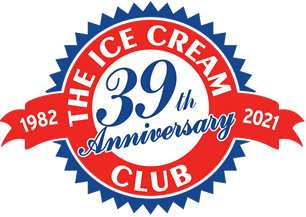 Franchise Look Without The Fees!
If your store needs identity and you want to have a "franchise look" without the fees or royalties (since we are not a franchise), consider Ice Cream Club®. There are no fees involved and many benefits.
No fees or royalties since we are not a franchise
We are the Manufacturer and Distributor; No middle man
Over 150 Flavors in stock at all times
Training, Manuals and Recipes
Point of sales material – Flavor name tags, posters, and illuminated menu inserts AT NO CHARGE
Training, marketing support, point of sale materials, Operational Manual, Marketing Manual, Cake Making Manual and floor plan; NO franchise fees, thereby minimizing the store owner's capital outlay and leaving excess cash reserves available to support the business. In turn, this support helps to insure the success and longevity of the business! These results are demonstrated through the many stores that have been featuring The Ice Cream Club® products for over 39 years. In addition, equipment provided at NO charge, based on review and qualification, further minimizing the cost of entry.
Open Your Ice Cream Store Today!
Call us at 800-535-7711 ext. 120
Or fill out the form below for more information.
The Ice Cream Club®…dedicated to quality… poised for growth….
Flavor Gallery
Over 150 Flavors!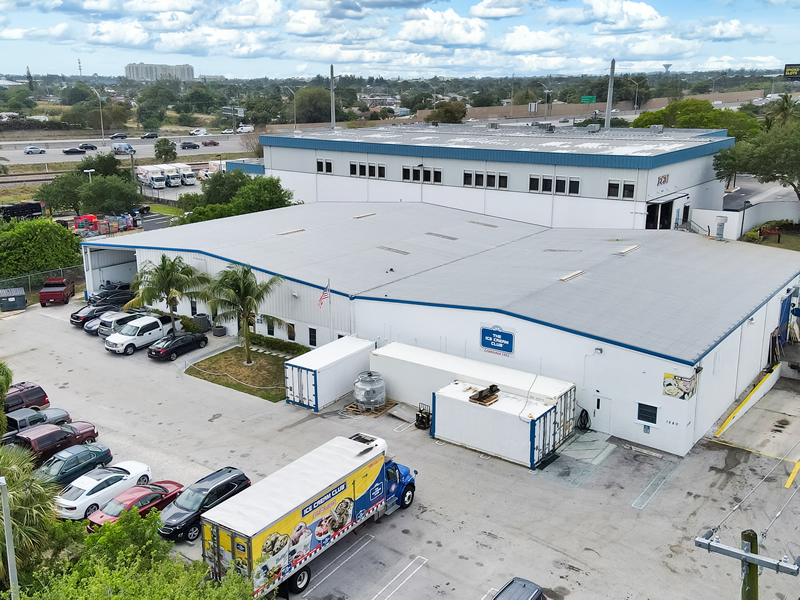 The Ice Cream Club®, Inc. manufacturing facility located in Boynton Beach, FL.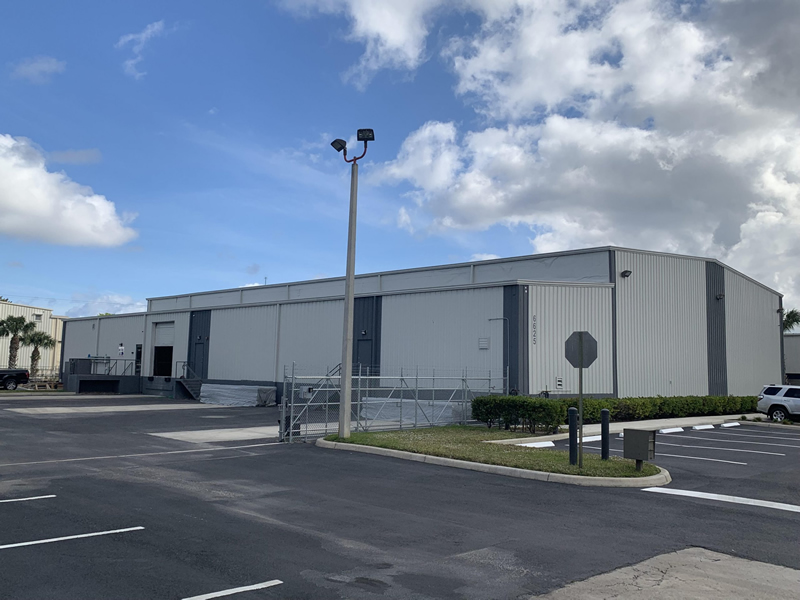 The Ice Cream Club®, Inc. distribution center located in Riviera Beach, FL.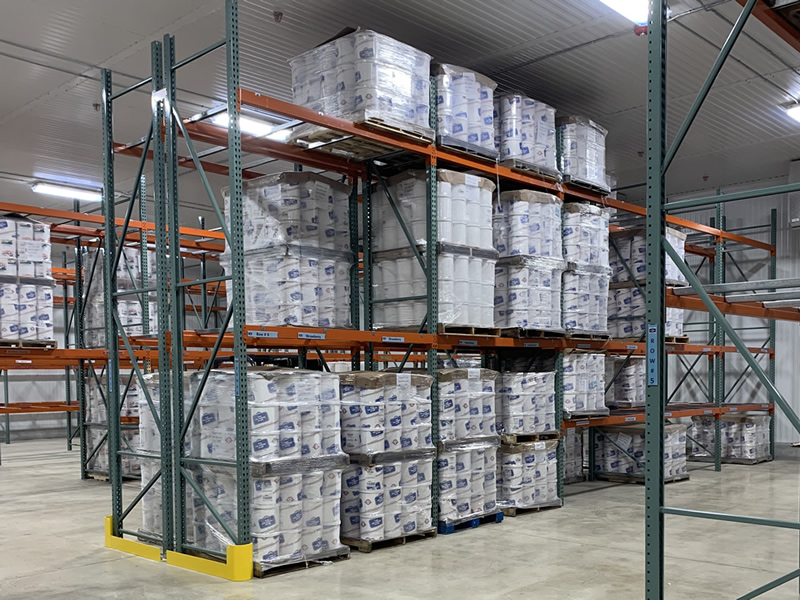 The Ice Cream Club®, Inc. distribution center located in Riviera Beach, FL.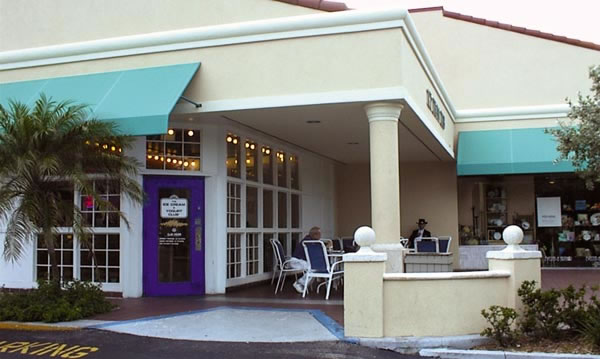 The Ice Cream Club®, Inc. flagship store in Manalapan, FL.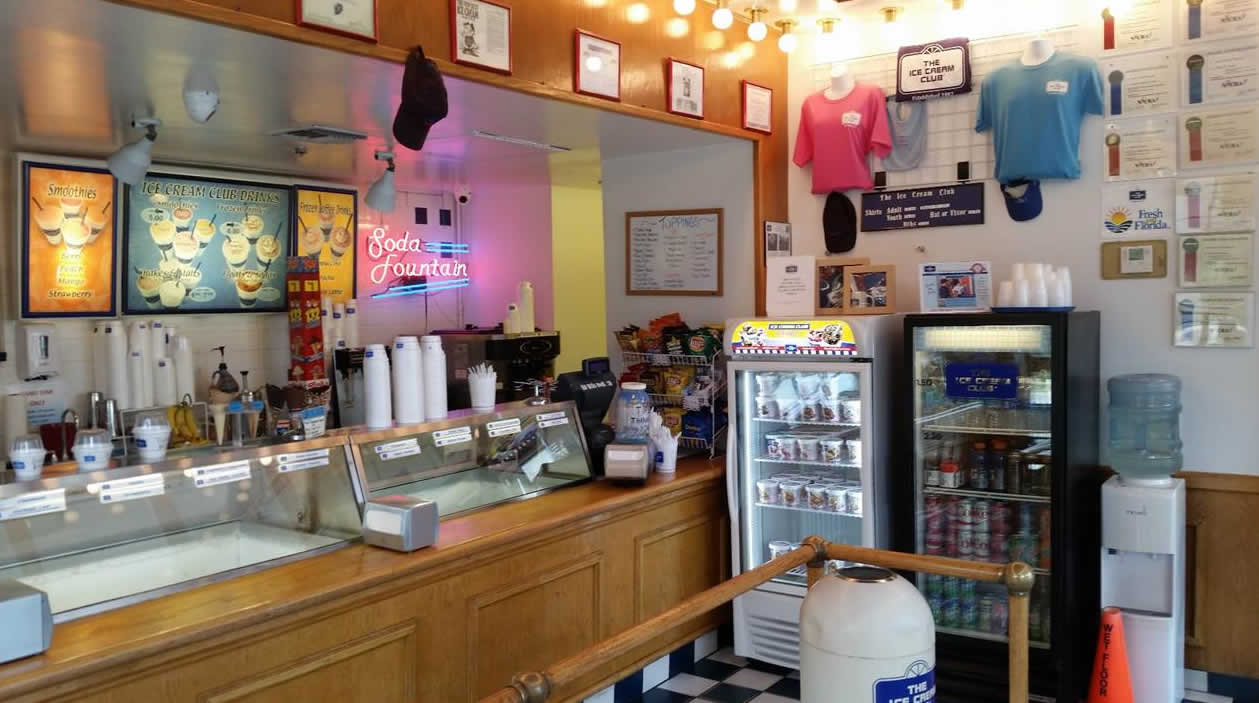 The Ice Cream Club®, Inc. sample interior of store.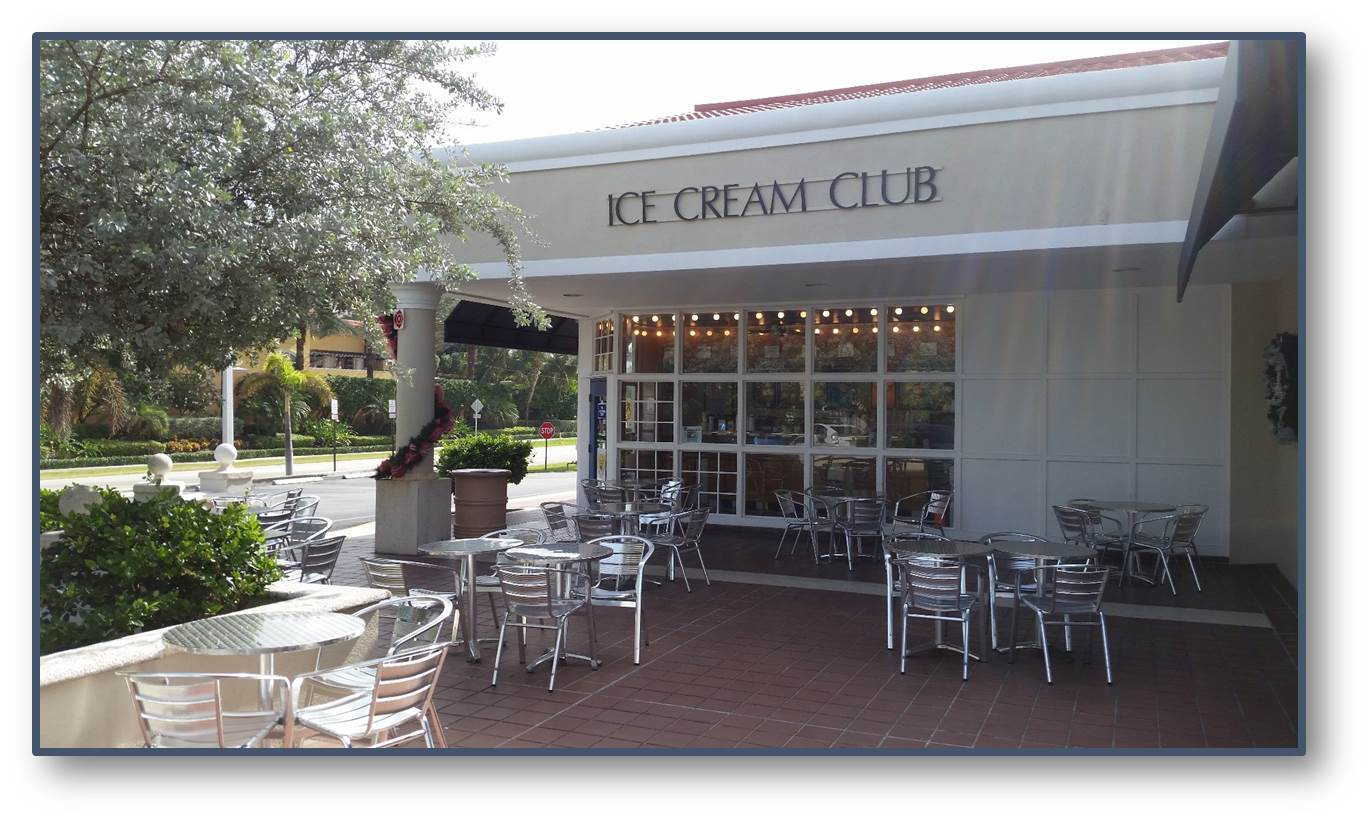 The Ice Cream Club®, Inc. sample exterior of store.
About The Ice Cream Club®, Inc.
Starting in 1982 with a single ice cream shop, The Ice Cream Club®, Inc. has steadily grown to become the leading regional manufacturer and distributor of premium parlor style ice cream, yogurt and related products in the Southeastern U.S. The Ice Cream Club®, Inc. distributes ice cream and mixes to over 500 Ice Cream Shops, Retirement Communities, Restaurants, Food Service Accounts and Wholesale Accounts throughout the Southeastern and Midatlantic U.S. and Caribbean Islands. In order to ensure the success of long term customers, the Company's award winning products are only found in select ice cream dipping stores and food service accounts, not in grocery or convenience stores, or discount warehouses.
The secret to the Company's success is the unbeatable taste of the Company's premium 14% Ice Cream Club® line. In addition, the Company has become synonymous for large quantities of oversized inclusions along with many creative and unique flavors. The Company has held on to the original way ice cream was made, Vat Pasteurization. This process allows the Ice Cream Mix to be pasteurized at a lower temperature over a longer period of time which in turn naturally imparts a great caramelized taste to the sugars in the Ice Cream Mix. This process takes longer and is less automated, but the end result in the taste of the ice cream and yogurts makes it worth it! In addition, this process also has the benefit of preserving the integrity of the ingredients. So, next time you reach for a dessert, have a delicious scoop of Ice Cream Club® ice cream.
Along with a variety of over 150 flavors in stock at all times, the Company develops formulas and provides private label production and distribution services to several regional and national companies. The Company is very proud of the quality, variety and exceptional taste of their No Sugar Added, Reduced Fat Ice Cream line. The Company maintains a Dairy Laboratory on premise and employs a full time Quality Control Director with a degree in Food Science from the University of Florida and over 30 years of experience.
There has been uninterrupted continuity of ownership/management since inception. The Ice Cream Club® prides itself on its long term employees, customers and suppliers. In addition The Ice Cream Club®, Inc. maintains a strong commitment to the community, donating time, resources and products to numerous charities and scholastic enhancement programs.
Quality Control – Food Safety and Modernization Act (FSMA) Ready: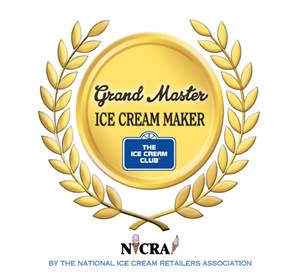 The Company and its leadership team have championed Food Safety initiatives in the Dairy industry. Rich and Heather Draper are both active members of the International Dairy Foods Listeria Task Force and the Artisan Food Safety Advisory Team. They have worked collaboratively with Dairy Executives on Food Safety regulation, compliance and implementation. They remain at the forefront of innovation and advancement. In addition, they have made numerous presentations to engage the industry in establishing, developing and maintaining a culture of Food Safety. They have engaged directly with Leaders at the Food and Drug Administration (FDA) to provide industry feedback for the Control of Listeria Monocytogenes in Ready to Eat Foods Guidance Document for Industry.
The Company has developed and implemented a robust Food Safety Plan that is FSMA compliant. In addition, the Company has brought in outside consultants to formally review and validate the Company's Food Safety Plan and Environmental Monitoring Program. Some of those consultants are Merieux NutriScience Company (pka Randolph and Associates), Hogan Lovells U.S. Food Safety Attorneys, Cornell University College of Agriculture and Life Science along with International Dairy Foods Association Regulatory Affairs and International Affairs Division. The Company utilizes an independent third party Laboratory for validation of the Company's Environmental Monitoring Program. The Company is quarterly inspected by the Florida Department of Agriculture and regularly inspected by a Rabbi from the Orthodox Rabbinical Board (ORB) for the Company's Kosher designation and compliance.
In addition, at the 2019 Dairy Forum, Rich and Heather Draper of The Ice Cream Club® were awarded the 2019 International Dairy Foods Association Food Safety Leadership Award. However, this is not the end game, Food Safety is an ongoing commitment. Ultimately, the reward is that the Company and consumers have the confidence that Ice Cream Club® products are safe.